We're Back !!!!
We can't wait to see you !!

As of June 1, 2020, we will begin to gradually open for restorative dental care. If you have called during the Covid 19 quarantine period with a dental issue, a Sklar Family Dentistry staff member will be calling you to schedule an appointment to be seen. We will start with patients with the most urgent need.

Unfortunately, at this time, we are unable to see patients for their routine cleanings. This is in accordance with the guidance of the PA Department of Health and is beyond our control. As soon as this decision is updated, we will advise you.

The following is the new protocol every patient will be expected to follow when arriving for their next dental appointment at our office:

For your and our safety, the front door to our office will remain locked. For the time being, we are eliminating our patient waiting area.

Only the patient being treated will be allowed to enter the office. Exceptions may be made for very young patients and for those who may need special assistance. In these instances, only one parent or caregiver may accompany the patient.

Upon arrival, please call (215) 368-7025 to let us know that you are here and proceed to wait in your car. If you do not have a cell phone, please ring the door bell and we will register your arrival.

All patients will be required to fill out a Covid 19 screening questionnaire. The mailbox, affixed to our front door, contains the questionnaires. Please take one and fill it out in your car.

Masks will be required to enter the office. Please be sure to wear your own mask to your appointment.

When our team is ready for you, we will call or text you. A team member will come outside to take your temperature. If you register a temperature above 100 degrees, you will be asked to reschedule your appointment.

At this time, please hand your Covid 19 screening questionnaire to our team member for review. If we have concerns regarding any questions to which you may have answered "yes", we may need to discuss whether treatment is appropriate at this time.

Upon entering, please use the hand sanitizer that will be made available to you and proceed to the treatment room assigned to you.

After your appointment is completed, we will do our best to schedule your next appointment in the treatment room.

Upon leaving the office, please call our office immediately if we were unable to schedule your next appointment or if there is a payment needed for your account .

We can't thank you enough for your patience, support and understanding. We love our patients and are striving to continue to deliver the best care possible. Your smiles and your safety are our top priority !
Dr. Sklar and Staff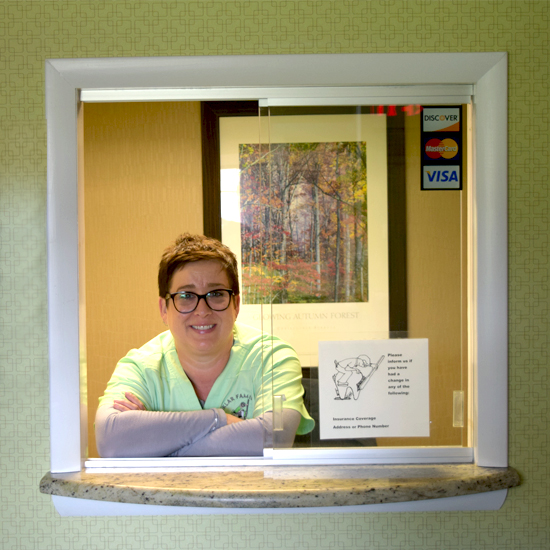 215-368-7025
Sklar Family Dentistry welcomes you!
For over 40 years, Sklar Family Dentistry has prided itself on exceptional service and outstanding dentistry. Started by Dr. Bruce Sklar in the early 1970's, Sklar Family Dentistry has been serving Hatfield and the surrounding community with elite professional care. Our goal is to provide a friendly, comfortable and knowledgeable dental experience. We aim to exceed your expectations.
Here at Sklar Family Dentistry, you will receive the personal attention that you desire and deserve. From dentistry to scheduling to finances, we always look to go the extra mile. Rest assured, in what can be an anxiety provoking experience for many, you will always be cared for with a gentle hand and a smile.
From children to adults, we are here to help your entire family. Whether it is preventative/ routine care, fillings, dentures, crowns or cosmetic smile creation, we can assist you with all your dental needs.
Thank you in advance for placing your trust in us. It means everything. Please call to schedule an appointment. We look forward to building a long relationship and can't wait to brighten your smile!
Why choose Sklar Family Dentistry?
Easy booking
Booking an appointment at our dental clinic is as easy as doing 2 clicks!
Experience
Combined, our 5 dentists have over half a century of practical experience. They are ready to put it to action for you!
Flexible schedule
We work during all state holidays, besides working till late during the regular days. In case of emergencies we accept weekend bookings.
Best price guarantee
Our reasonable prices made thousands of people smile with a new, beautiful smile, as never before!!
How can we help?
We offer a wide range of services to help keep you smiling.
What our patients say
Went in for a teeth cleaning, left with a smile! I have been going to Sklar Dentistry for several years. The entire staff is both friendly and professional.

Kenneth Z.
What an amazing Dentist Office! Very friendly staff & Dr. Jeremy Sklar is an outstanding dentist!

Timothy & Jennifer M.
Always a great experience visiting Dr. Sklar and staff, especially when there are no cavities and I get a new toothbrush.

Kathy T.
High quality of service. Everyone is very friendly and make the visit as painless as possible.

William L.
Great team! Very grateful for being able to see me on such short notice!!

Lucille P.
Dr Sklar is the best I travel 3hr and would not go to any other dentist. Thanks!

Joe L.